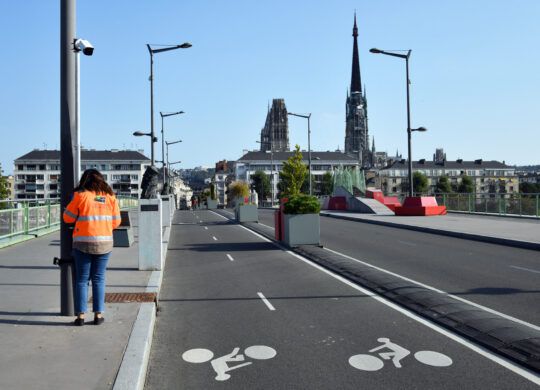 Studies & design
A historic contract with the Rouen-Normandy Metropolis!
Location:
Métropole Rouen-Normandie
Why?
At the crossroads of several roads and motorways but without a bypass, the Rouen-Normandy Metropolis, wishing to understand its territory, would like to have counting data to design new improvements.
Our role?
With its expertise in transport engineering, Technologies Nouvelles supports the Metropolis and offers complete and adapted solutions to measure travel on its territory and thus enable it to create the conditions for optimum mobility.
Technologies Nouvelles has been working for nearly 10 years alongside the Rouen-Normandy Metropolis to help it imagine its territory of tomorrow: in line with users' needs and integrating new mobility solutions.   
The surveys are carried out in more than 71 municipalities (small and large cities), composed of nearly 498,822 inhabitants on approximately 663 km² to be covered.
A relatively vast territory that requires a special adaptation of our teams and a good knowledge of the environment: dense urban environment, open country, roads with heavy traffic, dual carriageways with or without central reservation…
Our responsive and attentive teams anticipate and support the Metropolis on a daily basis to meet its needs for observing and monitoring traffic and travel on its territory. All the investigators have a good knowledge of the mission and the territory, necessary to guarantee an optimum quality of collection without disrupting the traffic.
Traffic surveys, origin-destination surveys, interview surveys, parking surveys, directional counts, automatic counts, or even pedestrian or bicycle campaigns; these are all operations carried out by our teams to measure travel in accordance with the needs of the territory.
The data collected can thus be used to optimise transport offers (pedestrians, bicycles, light vehicles, heavy goods vehicles, public transport, motorised two-wheelers) and design infrastructure projects (redevelopment of roads, creation of bicycle lanes, protected sites for public transport, etc.).
Find out more about the survey services provided by Technologies Nouvelles.
With the aim of observing and monitoring traffic and travel on its territory, the Metropolis is one of the main partners of the Mobility Observatory of the Rouen Normandy Metropolis (OMMeR), a real tool for monitoring traffic and travel in their various aspects: traffic levels, safety, use of public transport, etc.
Set up in 1994, this observatory makes it possible to draw up assessments, various analyses and evaluations relating to the commissioning of new transport infrastructures and monitor the projects implemented by various project owners.
The services offered by our teams also make it possible to feed this observatory, which has become a reference base in terms of travel in the Rouen urban area.
Over the years, a real relationship of trust has developed between the Metropolis and our teams.
Our increasingly detailed knowledge of the territory, as well as our understanding of our client's operations, coupled with our expertise in transportation engineering, allow us to be at the side of the Rouen-Normandy Metropolis to support it in the transformation of its territory.
Day after day, survey after survey… the success of this mission was possible thanks to a strong commitment from our teams, passionate about their work!
Through this reference, Technologies Nouvelles shows once again its ability to anticipate, adapt and respond quickly to its customers' expectations.