TRAFFIC CONTROL & REGULATION
Effectively regulating and supervising traffic helps to improve safety and to keep traffic moving.
SYMART, a software solution to control dynamic equipment and supervise traffic light junctions, is adapted to new urban mobility requirements and used to improve multimodal traffic management.
This supply, which is scalable in terms of size and functionality, can be adapted to your current and future needs. Its usability makes it easy for users to get to grips with it quickly.
Its data management performance, its interoperability and its scalable nature facilitate a transition to the Smart City.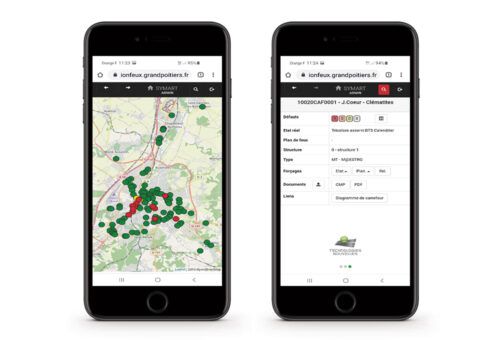 Particularly suited to small local authorities, SYMART Online is a lightweight and effective solution used to remotely monitor traffic light junctions by way of an annual subscription, with no additional costs and no obligation to manage a local IT infrastructure.
SYMART Online enables you to:
Stay informed in real time of the status of traffic light junction infrastructures

Receive accurate alerts rapidly in the event of a malfunction

Effectively intervene to restore optimum operation
This offer also extends to the management of VMS (Variable Message Signs).
SYMART Online can be used from a smartphone, tablet or PC and without the need to install a software application.
*Software as a Service
Our teams are involved in all phases, from installation to configuration and up to the support and maintenance of Central Traffic Control Stations via dedicated and secure internet access.
Software installation, configuration and training

Telephone hotline for operators and remote take-over if necessary guaranteeing an instant response

Corrective maintenance

Evolutive maintenance to support system and technology updates (WINDOWS operating systems, WEB browsers, DIASER protocol, etc.)

On-site or remote preventive maintenance to ensure optimal operation of the system and to meet customer requirements (further configuration, training, etc.)
From the installation and initial training of the SYMART system, users are able to manage their system completely autonomously.
In addition to SYMART system training, our teams can support you with advice on the network architecture, traffic studies and traffic light deployment.